SAMSUNG WASHING MACHINE 7KG 1200RPM DIGITAL INVERTER STEAM WHITE 
* Generally speaking, the noise reduction level is 5 dB and 3 dB wash cycle and spin cycle respectively. Data was based on the ERP label between an 8kg 1400rpm F500 washer (model WF80F5E5P4W) with a digital inverter motor and an 8kg 1400rpm Vistula washer (model WF1804WPC) with a generic motor.
** Based on internal testing of WA6000T Model with Inverter Motor No and WA6700J model without Digital Inverter Motor under normal wash cycle operation (Normal) – 15 ± 2 ° C, 3 kg load.
Hygienic hygiene
Drum Clean
Keep the inside of the washer hygienically clean. The Drum Clean cycle removes 99.9% of odor-causing bacteria * from the tub. And because it uses a combination of soaking, pumping and high-speed spin, you won't find yourself needing to use any harsh or expensive detergents. It also tells you when the tub needs to be cleaned **.
* Removes 99.9% of bacteria from inside the washer. Based on Intertek test of tub cleaning cycle.
** Issues a notification after every 40 laps.
No more wasted detergent residue
StayClean Drawer
Stop wasting detergents and avoid the tiring cleaning task of detergent drawer. An always-clean StayClean Drawer ensures that all detergent flows into the wash basin according to a specified water flow system. Hence, the amount of remaining powder in the washing machine drawer decreases, and the tray itself remains more clean and hygienic.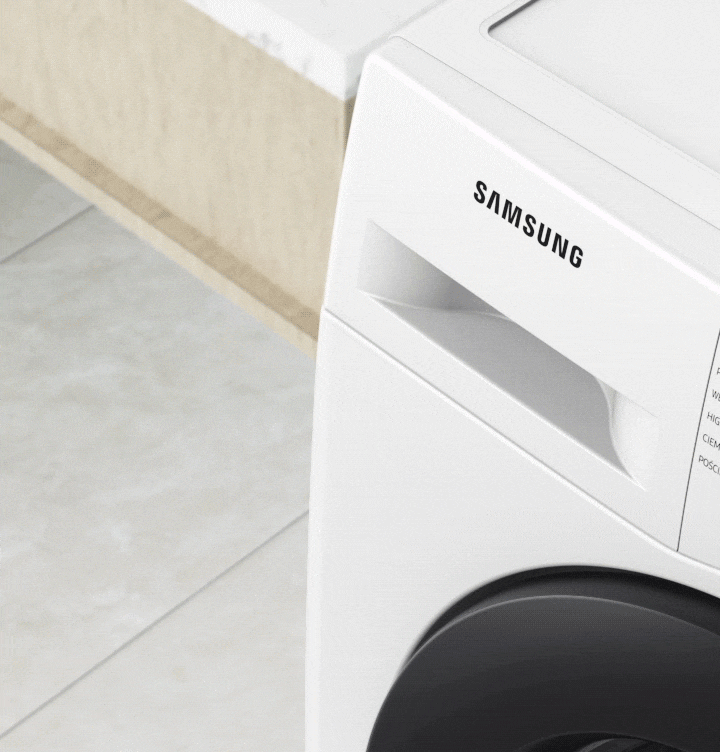 Specifications
Washing Capacity 7.0Physical 550 x 850 x 600Net weight (kg) 65Basin type II

Details spec
Washing capacity
Washing Capacity 7.0
the design
Body color White

The black door

Panel Screen LED

Feature
Child Lock: Yes

Delayed completion Yes

Drum Clean Plus Cycle Yes

Basin type II

Intensive Yes

The digital engine

Pre-wash: Yes

Rinse + (Rinse +) Yes

Smart test: Yes

Soak Yes

The rotation speed is 1200 rpm

StayClean Drawer Yes

Steam Yes

The course
15 Minutes Quick Wash Yes

Preference: Yes

Cotton Clothes Yes

Colors Yes

2 days wash: Yes

Rinse + Spin Yes

Drum Clean Plus Cycle Yes

Cotton Yes

Steam Bowl: Yes

Spin + Rinse Yes

Fabrics made of synthetic fibers: Yes

Wool / Delicates: Yes
Physical specifications
Net Dimensions (Width x Height x Depth) 550 x 850 x 600

Net weight 65