SAMSUNG 588 LITER NO FROST DIGITAL
Moisture and freshness in all parts of the refrigerator
Only Twin Cooling Plus™ technology can create a suitable environment for preserving fresh food in the refrigerator with a humidity of up to 70% compared to 30% in conventional refrigerators. Thus, it keeps foods fresh for longer without drying out.

*Based on internal testing of Samsung RT22SCSW2 vs RT6000K.
Delicious and odor free frozen foodأطعمة
The Twin Cooling Plus™ system cools the compartments separately to eliminate the spread of unexpected odors from fridge to freezer. So the flavors of frozen foods can be kept for a longer time.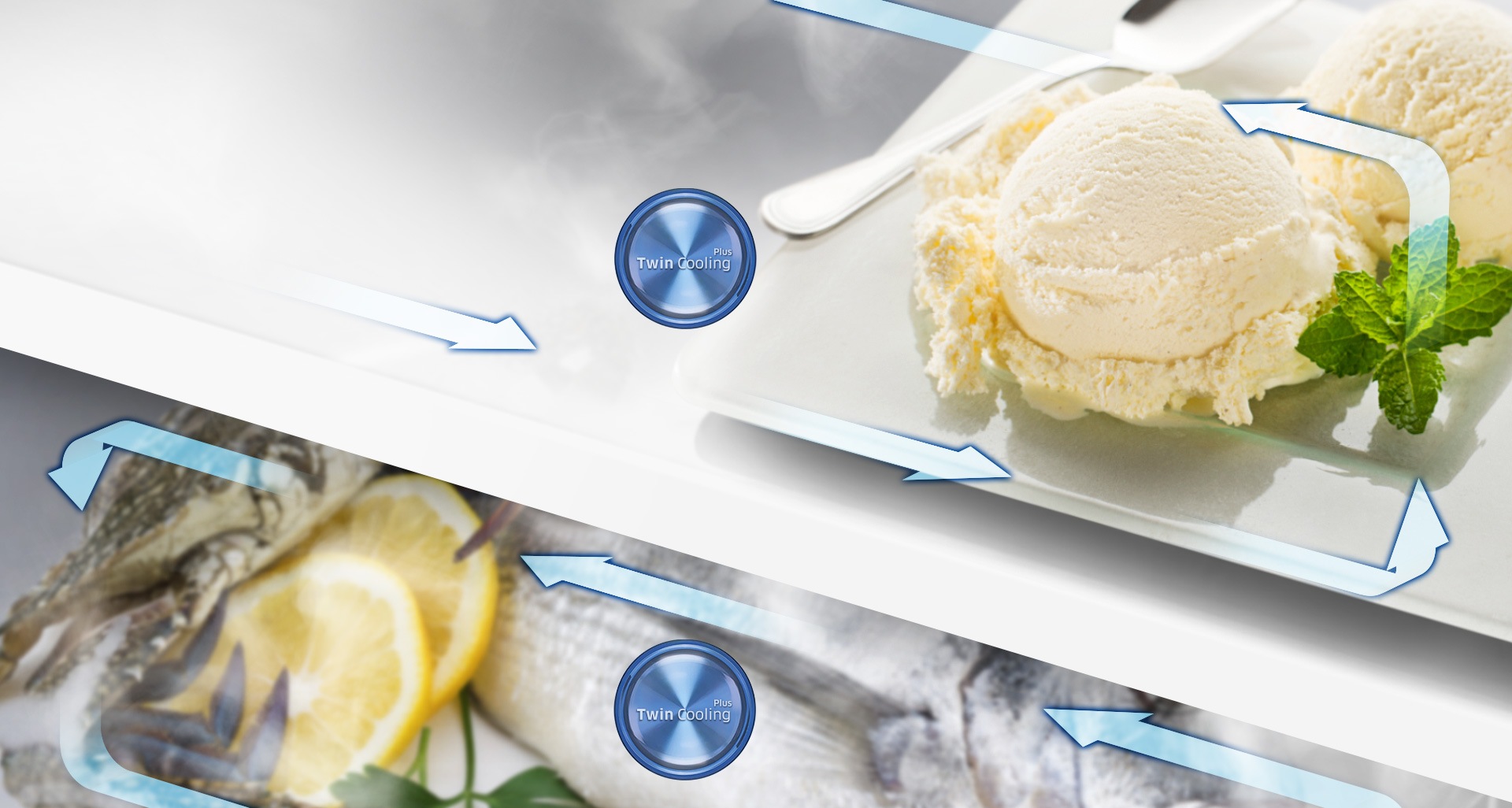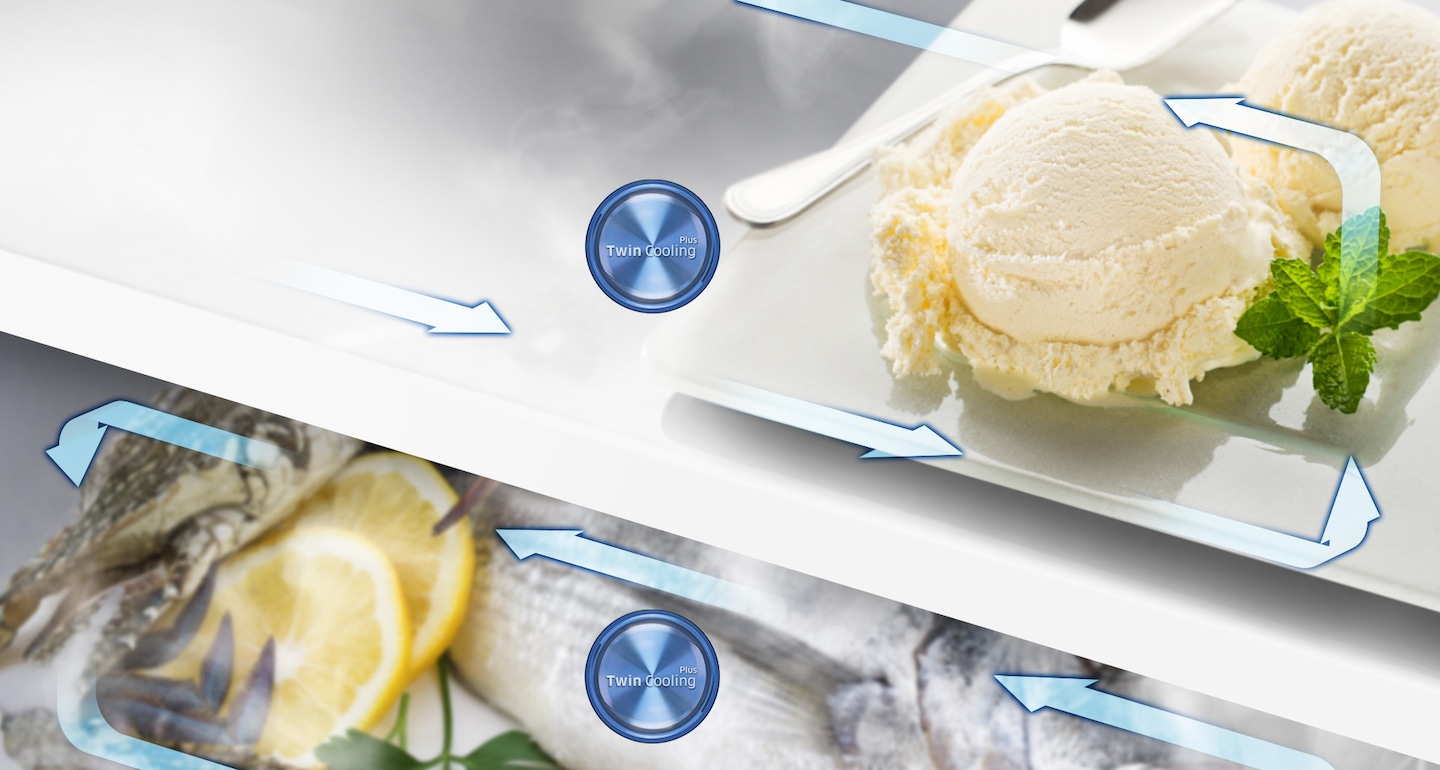 Did you buy a lot of foods? Don't worry about space!
The interior space is vast and up to 620 liters, SpaceMax™ technology allows more space inside the refrigerator without affecting the outside space. So stocking up on all of your groceries for the week just got easier and faster.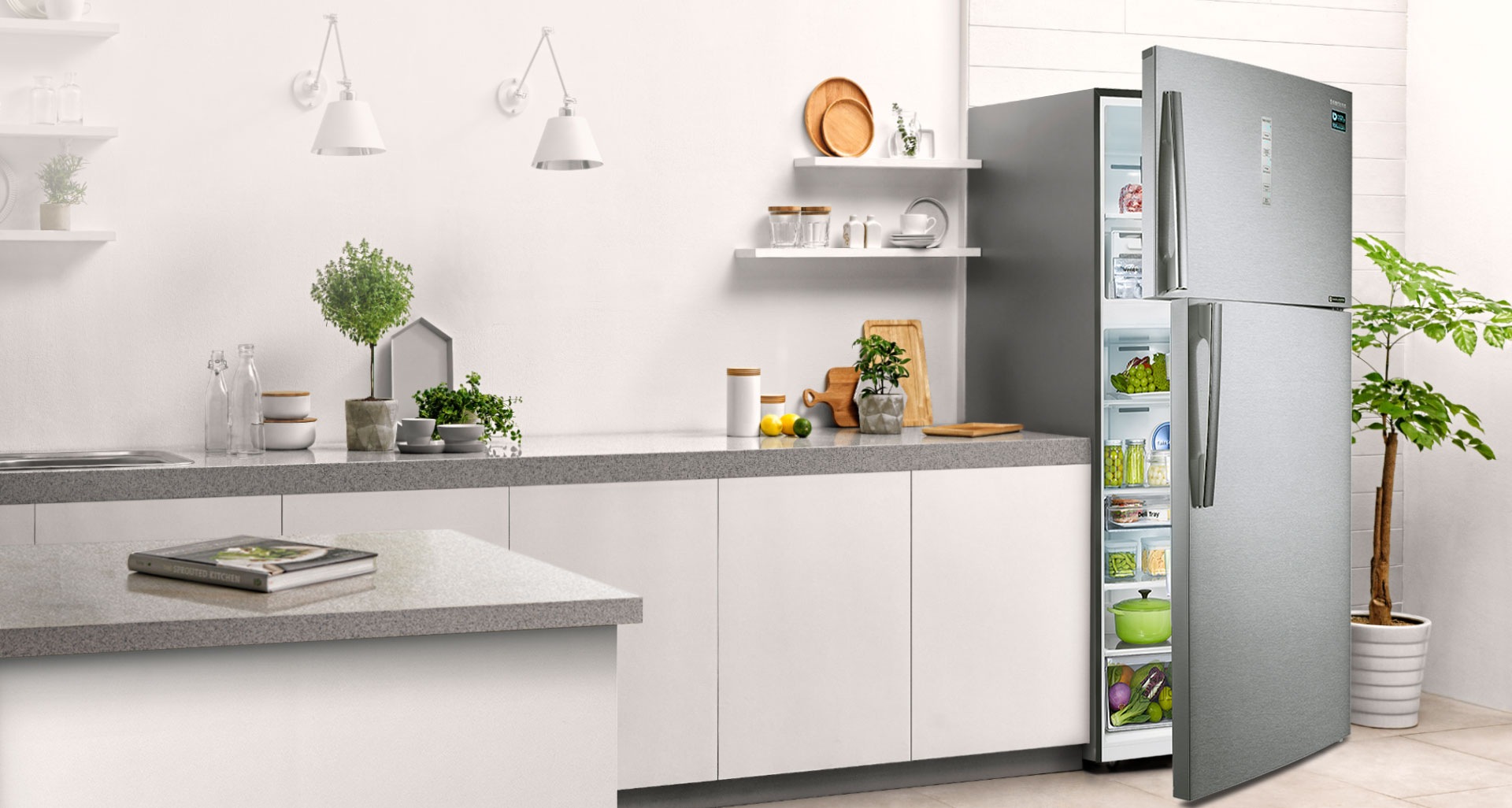 5 custom conversion modes
The refrigerator offers the ultimate in flexibility in storage. Easily convert the freezer into a fridge to preserve the freshest foods you need to store for different seasons or special occasions, or turn it off* to save energy, depending on specifications.
.
* The temperature inside the two compartments of the refrigerator remains below 15 ° C with little electrical energy consumption
Makes ice and cools drinks
It intensively pumps cold air to ensure rapid freezing or cooling. At the touch of a button, the Quick Cool function cools foods and drinks in a short time, while the Quick Freeze mode freezes foods and makes ice.
Runs longer, quieter and uses less energy
Digital Inverter technology automatically adjusts the compressor speed according to the need for cooling between 7 levels. It consumes less energy, reduces noise and reduces wear and tear to deliver strong, long-lasting performance.

Easily organize the foods you need every day
The detachable Deli drawer has a compact design that allows efficient use of wasted space in refrigerators. It's the perfect way to store daily used foods or fresh foods so that you can serve foods straight to the dining table.

Keeping the air fresh and clean
The anti-bacterial protector keeps the refrigerator clean and hygienic. The air passes through an activated carbon filter, to be continuously sterilized and odors removed, while the anti-bacterial mesh eliminates bacteria.
You can clearly see everything inside of it
The refrigerator features an efficient LED light that is small and elegant and consumes less energy compared to conventional lighting. It is located on the top and sides and brilliantly illuminates every corner of the cabin, ensuring better visibility.
Specifications
Net (liter) 588Net Weight (kg) 97CompressorCompressor with Digital Inverter TechnologyEnergy Efficiency Class A+

Details spec
Capacitance
Net (liter) 588

Freezer net capacity (L) 161

Refrigerator net capacity (L) 424

Gross Capacity (L)596

Total Freezer Capacity (L) 170

Total Refrigerator Capacity (L) 426

Physical specifications
Package Width (mm) 892

Package Height (mm) 1905

Packing depth (mm) 776

Package Weight (kg) 105

Height: 20/40/40 (container) 18/39/39

Net Dimension (W x H x D) (mm) 788 x 1787 x 836

Net Width (mm)836

Net Weight (kg) 97
Cooling feature
Twin Cooling PlusYes

No Freeze TechnologyYes

Omnidirectional FlowYes

Fridge feature
Shelves (total) 4 EA

Daily TrayYes

Shelf Materials Tempered Glass

Number of Fruit and Vegetable Drawers2 EA

Number of door containers 5 EA

Egg Container (Egg Tray)Yes

LED Interior LightingLED Headlight

Anti-BacterialYes

Great ProtectorsYes
Freezer Feature
Ice Maker Management

Shelf Materials Tempered Glass

Number of shelves (total) 1 EA

Number of door containers 2 EA

LED Interior LightingLED Headlight

General Features
Refrigerant R-600a

CompressorCompressor with Digital Inverter Technology
External Feature
Display and controls (refrigerator and freezer) recess

door handle latch

color black inox

water dispenser
the performance
Energy Efficiency Class A+
Smart
Built-in WiFiNo

bluetooth no

WiFi Dongle Support (sold separately) Yes

WiFi KitNo
App connectivity
SmartThings App SupportYes