Full moisture freshness all over the fridge
Only Twin Cooling Plus™ creates an environment conducive to preserving fresh food in the refrigerator with a humidity of 70%, compared to 30% in a conventional TMF. So ingredients stay fresh for longer without drying out.
*Based on internal comparative testing of Samsung RT22SCSW2 and RT6000K models.
Delicious tasting, fragrant, ice-free food
The Twin Cooling Plus™ system cools the compartments separately to prevent unexpected odors from spreading from fridge to freezer. Therefore, frozen food retains much of its original flavour.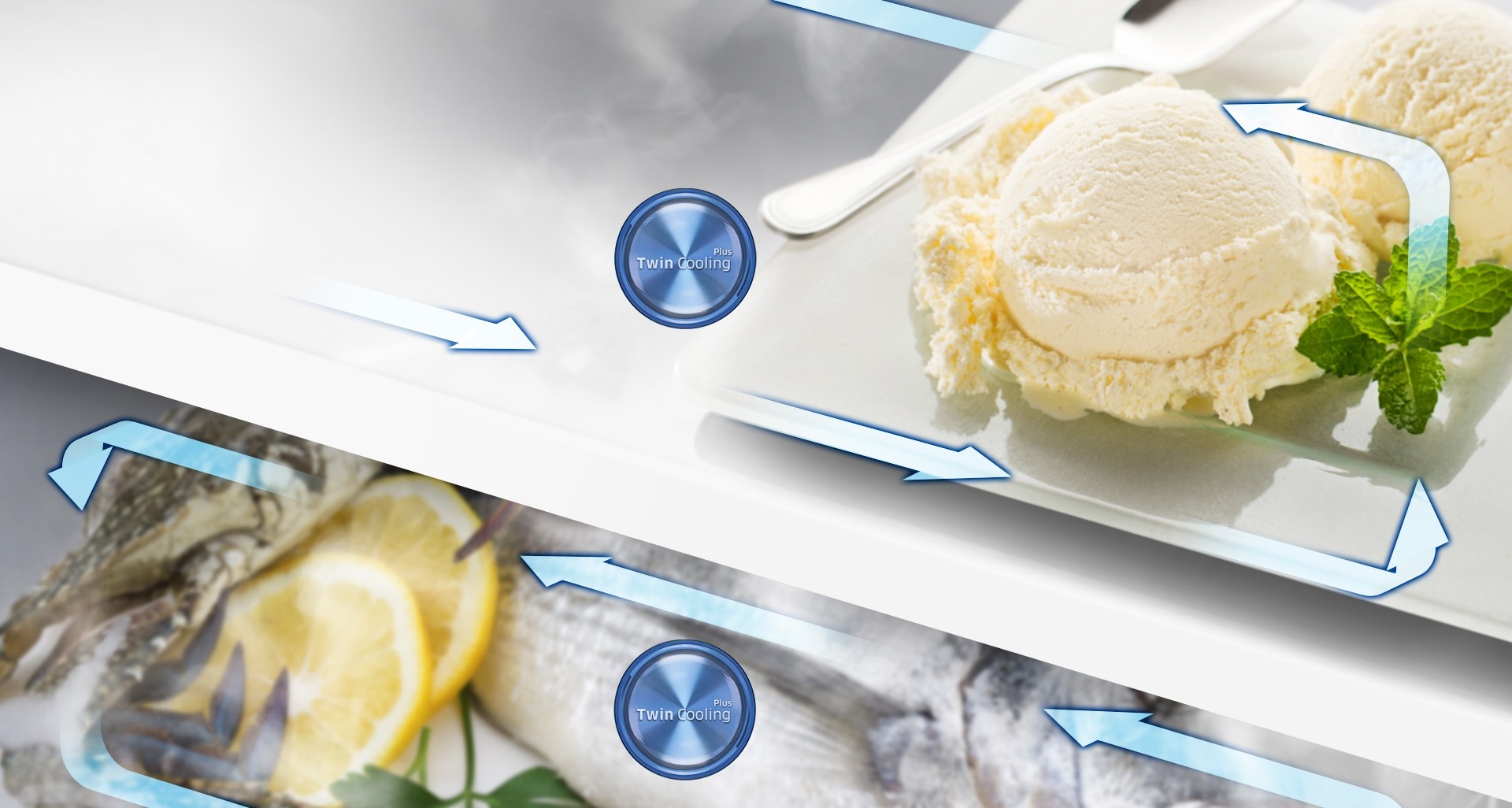 5 on-demand switching modes
The refrigerator offers superior flexible storage. It also easily converts your freezer into a fridge to keep all the fresh food you need to store for different seasons or for special occasions. Or you can also select Off* mode to save power, depending on specifications.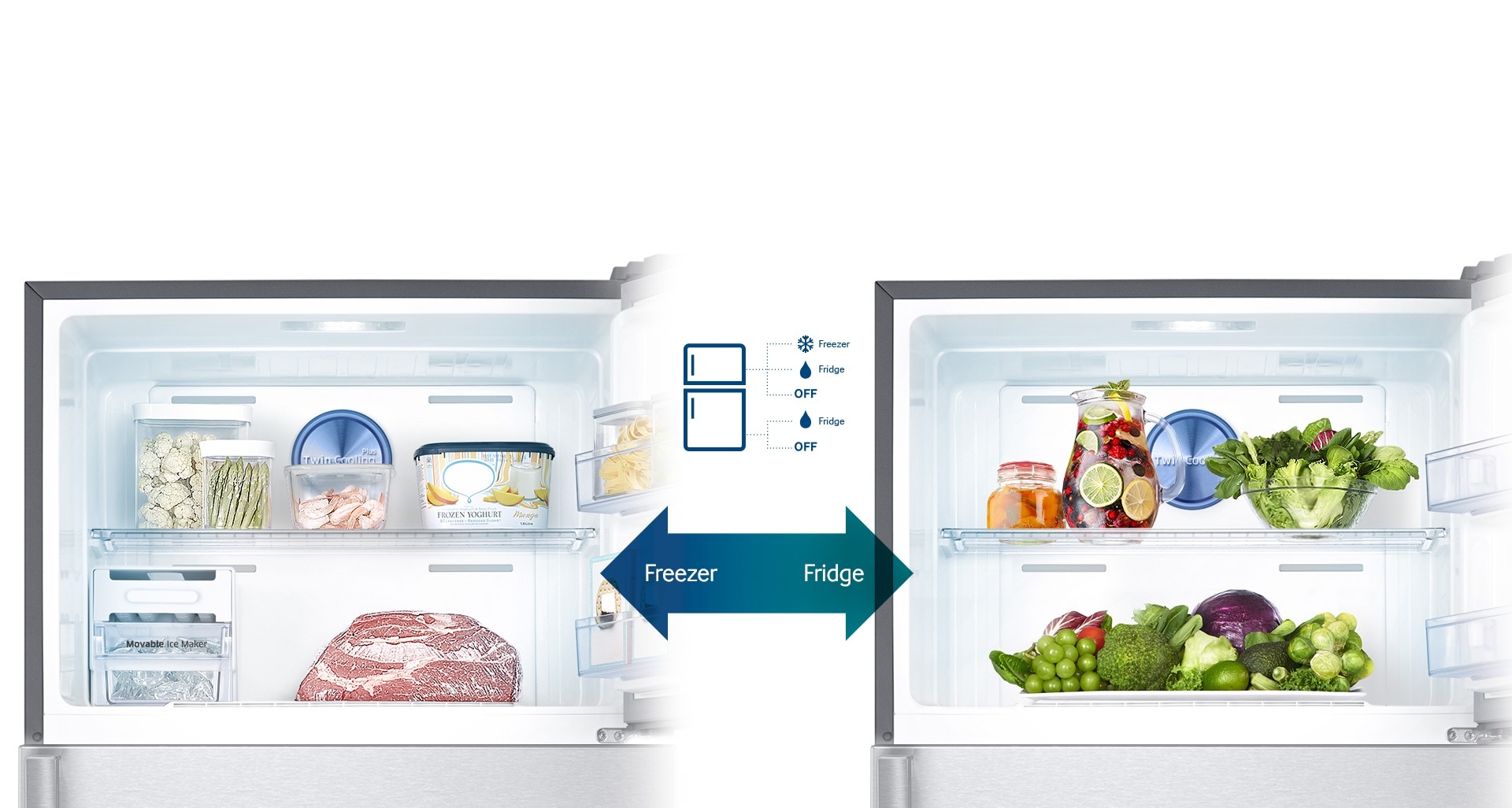 * The cabin temperature is kept below 15°C using low electricity
Enjoy making cold and iced drinks
The refrigerator features a fast delivery of condensed cold air for rapid freezing or cooling. At the touch of a button, Power Cool quickly cools food and drinks while Power Freeze freezes or fortifies frozen food and makes ice.
Easy to find and access food at the back
Getting to the fridge often means navigating through a host of potentially hurdles. The easy-slide shelf gives you efficient storage, organization and access to your staples – with easy access to items in the back and in the corners.

Refrigerator runs quieter and uses less energy
Digital Inverter technology automatically adjusts the compressor speed in response to cooling demand across 7 levels. It uses less energy, reducing noise, wear and tear for long-lasting performance.

It works to maintain the cleanliness and freshness of the air in terms of health
Bacteria Protector keeps your refrigerator clean and hygienic. Air is passed through an active carbon filter, so it is constantly sterilized and deodorized while the anti-bacterial mesh eliminates bacteria.
Enjoy a clear view of everything inside
High-efficiency LED lighting is smaller, cooler, and more energy-efficient than conventional lighting. It is located in the upper part and on the sides in a way that is beautiful and subtle, illuminating the rest of the corners and ensuring a better view.

SpecificationsNet (L)528Net (W x H) (mm) 790 x 1855Net Weight (kg) 83 KgTwin Cooling PlusYesSpecification details
Capacitance
Net (L)528Freezer Net Capacity (L) 125Refrigerator net capacity (L)403

Gross Capacity (L)543

Freezer Total Capacity (L)138

Total Refrigerator Capacity (L)405
Physical specifications
Net (W x H) (mm) 790 x 1855

Net Depth Without Door Handle (mm) 720 mm

Net Depth Without Door (mm) 633 mm

Package Width (mm) 846 mm

Package Height (mm) 1,944 mm

Packing depth (mm) 770 mm

Package Weight (kg) 91 Kg

Height: 20/40/40 (container) 19 / 42 / 42

Net Width (mm) 790 mm

Net Case Height with Hinge (mm) 1,855 mm

Net Depth with Door Handle (mm) 770 mm

Net Weight (kg) 83 Kg

Cooling feature
Twin Cooling PlusYes

No Freeze TechnologyYes

Omnidirectional FlowYes
Fridge feature
Deodorizing Yes

Shelves (total) 4 EA

Easy Slide ShelfYes

Shelf Materials Tempered Glass

Number of vegetable and fruit drawers 1 EA

Number of door containers 5 EA

Egg Container (Egg Tray)Yes

Fresh Dining RoomYes

LED interior lighting

Great ProtectorsYes
Freezer Feature
ice maker drawer

Plastic Shelves

Number of shelves (total) 1 EA

Number of door containers 2 EA

LED interior lighting

General Features
Refrigerant R-600a

CompressorInverter Digital Compressor
External Feature
Display and controls (refrigerator and freezer) external

door handle barrier

Color Elegant Inox

water dispenser
the performance
Energy Efficiency Class A+